The Pratt Area Chamber of Commerce is a non-profit volunteer organization whose mission is to initiate, support and advance economic, civic and cultural growth, enhancing the quality of life in Pratt.
The Chamber's most fundamental mission is to generate more business activity for our community.
The Chamber initiates more business to business commerce and more opportunities for networking and connecting local professionals than is available through any other local organization.
Pratt is often called the "Gateway to the High Plains" because once you leave Pratt County, the elevation continually rises all the way to the Rocky Mountains.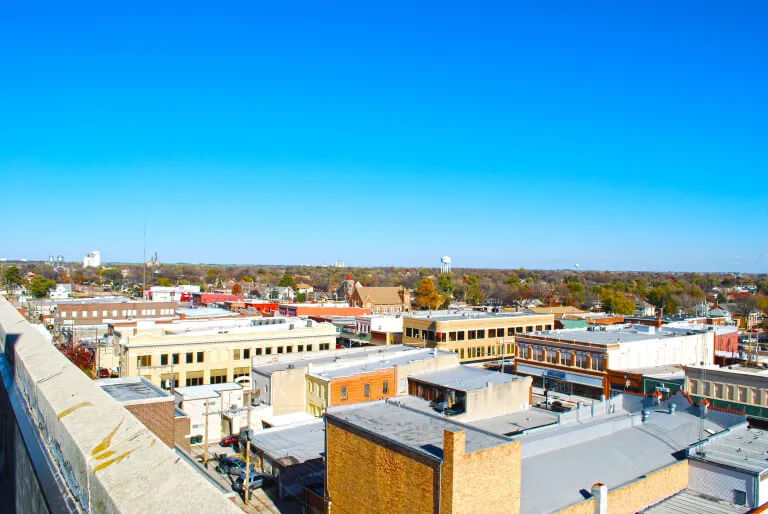 In 1867, at the great council in Medicine Lodge, the Kiowa, Comanche, Arapahoe, Apache and Cheyenne Tribes relinquished their hunting grounds in Kansas. It was not until after this agreement did any white man homestead in Pratt County.
In the fall of 1872, a trapper named Johnson moved into the area to hunt the abundant wildlife, before white settlers took hold of the area. Johnson dug an elaborate cave in a cut bank of the Ninnescah River. At the end of his second season, he was collecting his traps when he was surprised by a band of Indians. Successfully making back to this cave, he defended himself for more than two weeks, killing several of the Indians before they decided he was bad medicine. During that time he lived off the oil he had been rendering from skunk hides. Thus, he was honored with the title of "Skunk Johnson," becoming one of Pratt's legendary characters.
The city of Pratt was named after Caleb Pratt, a young Civil War officer from the Kansas Infantry, who was killed in the Battle of Wilson Creek, near Springfield, Missouri. After a long and dramatic controversy, Pratt won the county seat from Iuka and Saratoga in 1887.
Pratt's population is just under 10,000 and is a big agriculture community. We have an operational cotton gin, an ethanol plant, we are home to the Kansas Department of Wildlife, & Parks fish hatchery and we have several of our local farmers who have received the title of Master Farmer from Kansas State University.
Education is a high priority in Pratt. We have two school districts, USD 382 and USD 438,  several students who are home schooled, and a community college.
Pratt is also home to the Miss Kansas Pageant which is held the first week of June. 2022 marked the 81st year of the pageant in Pratt!
Pratt has four museums, our newest one, the Vernon Filley Art Museum. We also are home to the B-29 Museum which is located in a parachute hanger at the Pratt Army Airfield. Pratt was the testing site of the B-29 bomber plains during WWII. The Pratt County Historical Society and the Kansas Department of Wildlife, Parks & Tourism's Education Center and Aquarium are our other two. Pratt Community College also has a Hall of Fame and an art gallery.
Pratt has over 270 acres of parks and walking trails throughout the city.  Pratt has a wonderful recreation department that keeps our younger generation and our older generation busy with activities all year!
STAFF
Ashley Smith, President & CEO
Susan Pixler, Office Administrator
2022-23 BOARD OF DIRECTORS
John Keller, Board Chair
Stanion Wholesale Electric Co., Inc.
Ani Uphoff, Past Chair
Arrowhead West, Inc.
Tyler Fross, Chair Elect
Walmart
Jackie Mundt, Secretary
Kanza Cooperative Association
Crystal Kohman, Treasurer
Pratt Glass Enterprises, LLC & Superior Fire Equipment, LLC
Mike Sanders
SCTelcom
Stacy Hanson
Pratt Health Foundation
Becca Flowers
Skyline Schools USD #438
Holly Launchbaugh
South Central Community Foundation
Mark Morgan, Pratt Area Economic Development Corporation
Retired
Kelsey Gatz, Young Professionals of Pratt
The Peoples Bank
Bruce Pinkall, City Manager
City of Pratt